Toni Schriver, RVT - Executive Director and Founder of PAWWS to Heal
Toni is an adult survivor of childhood sexual abuse. While struggling with feelings of fear, anger, and confusion, the only true comfort she found was with animals.
She struggled with self-destructive tendencies as an adult. Still, she was able to earn her degree as an Animal Health Technician in 1988. This allowed her to give the gift of healing back to animals.
Knowing that animals played a huge part in her success, it felt right to develop programs that use animals to assist children cope with the abuse. From that concept, PAWWS to Heal was born.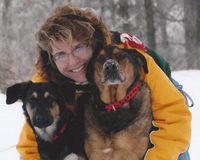 Julie Ann David - Vice President
Julie David had 42 years of experience as a successful business owner in the Madison area. She contributes strong ideas in public relations, fundraising and business while serving as the organizations photographer.
Laura O'handley- Treasurer
Laura has more that 30 years of experience as a certified veterinary technician and is a certified children's yoga instructor and reiki instructor. She brings her business, marketing and public relations experience to our organization as well as her spiritual energy.
Barbara J Schriver- Secretary
Now retired, Barbara was a biologist for the state of Wisconsin for more than 35 years. She currently volunteers in the public school system to teach mentally challenged children to read.
She has put together fundraising events and is strong in public relations. She contributes ideas for fundraising and special events for our organization.
With the desire to own her own business, her years of knowledge of pet nutrition and her passion to work with animals, Michelle opened the first Tabby & Jack's Pet Store in 2007 she currently owns 6 location. Her expertise is in marketing, accounting, fundraising and public relations all which contribute to the organization. 
We are currently operating as an outreach organization in Dane County, Wisconsin. Our vision is to acquire an on-site facility where we can provide human therapists and a wider range of therapy animals and programs for children.
The on-site facility would be on two to five acres with buildings to house domestic livestock, reptiles, birds, and a small collection of exotic animals. We envision having therapy sessions both outside and inside, as well as having a ranch day.
In this event, kids can come to be kids and assist clean, feed, and bathe the animals.
Connect With Our Dependable Staff
You can be assured that our compassionate team will always be there to assist you through your challenges. If you are interested in learning more about the services we offer, contact our team today.